Annual Meeting October 16: The Cecil County Farm Bureau invites all voting members to attend their Annual Meeting on Monday, October 16th at 7PM. Come shape policy at the local, state, and national level and make your voice heard.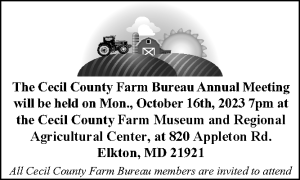 New Event: The Cecil County Farm Bureau is proud to present our first-ever Beef & Beer Fundraising Event! Enjoy all-you-can-eat oysters and beef, bottomless beer, a cash liquor bar, fun games, prizes, and live music from Smokin' Guns! Don't miss this chance to have a blast while supporting a great cause! Reservations can be made until September 27th here.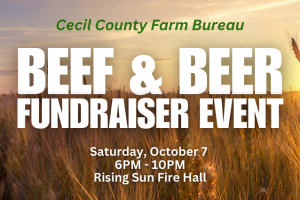 Save the Date! The 91st Annual Banquet and Auction will be Saturday, March 25th at Rising Sun Fire Co. Banquet Hall. Doors open at 5:00 PM and the program will begin at 6:30 PM. The cost is $50/person and the order form can be accessed as a PDF here.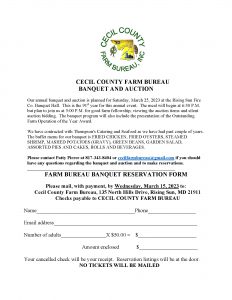 Join us April 2nd at the Cecil County Young Farmers 17th Annual Clay Shoot in Kennedyville, MD at Hopkins Game Farm.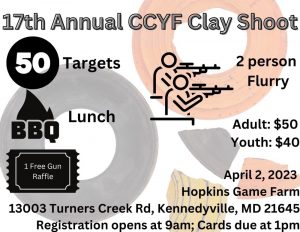 Click here to view our most recent newsletter and stay up-to-date with what's happening in Cecil County Farm Bureau!
Upcoming Events:

Highlights:
We recently built a new building at their county fair! We plan to use it to promote and protect agricultural and rural life.