INSPIRING OUR FUTURE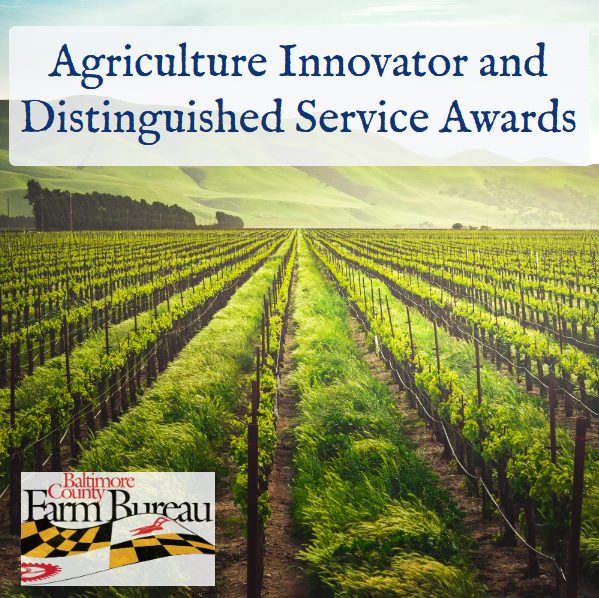 Agriculture Innovator and Distinguished Service
Award Nominees Needed
It's time to send over your nominees for the Ag Innovator and Distinguished Service Awards!
Ag Innovator award recipients will have achieved the following:
· Owned or taken significant leadership role in a business that is recognized as a successful leader within the agriculture community.
· Has implemented practices or procedures that have been recognized as innovative and beneficial to the agriculture community and/or public perception of agriculture.
· Has given substantial help and time to a charitable organization(s) within or outside of the agriculture community. 
Distinguished Service award rules and qualifications:
· The Baltimore County Farm Bureau's award for distinguished service is given in recognition of outstanding service in the interest of Farm Bureau and agriculture.
· Nominations for the award may be made by members in good standing of BCFB. Current officers and employees of Farm Bureau are not eligible for nomination. The award will not be presented posthumously, nor will it be presented to an organization.
· Nominees must be Baltimore County Farm Bureau members who have contributed to the betterment of the organization and the industry at the county, state, or national level.
· The nomination should include name, address, phone number, and qualifications for the nominee and the individual nominating.
· Award winners will be selected only from nominations made in the current year. However, nominations made in previous years may be resubmitted.
Please submit your completed nomination forms to Vanessa Finney at bcfbmd@gmail.com. Let's take a moment to recognize and acknowledge the good we see happening.