Over 2,000 Tons Of Tires Recycled Through Ag Scrap Tire Recycling Events This Year
September 29, 2023
DAVIDSONVILLE, MD. — A partnership between the Maryland Farm Bureau (MDFB), the Maryland Department of the Environment, and Maryland Environmental Services has successfully yielded the recycling of 2001.6 tons of tires through Ag Scrap Tire Recycling events, marking a significant milestone for both the farming community and the environment.
These recycling events were held in an effort to keep tires from filling landfills and becoming hazards. The free-of-charge collection sites provide farmers an opportunity to remove old tires from their properties, which can also sometimes serve as a breeding ground for mosquitoes and other pests.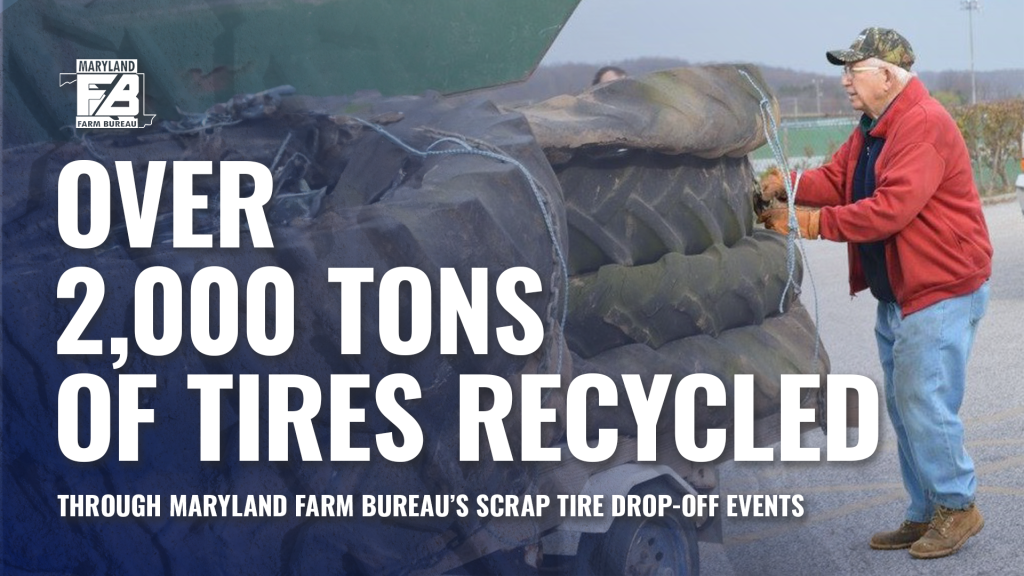 "The tire recycling program is a prime example of how collaboration between farmers and our partners in government can result in mutually beneficial initiatives for the environment," said Parker Welch, Executive Director of MDFB. "We are thrilled to reach a milestone of over 2,000 tons of tires recycled, and we appreciate our state agencies for helping us advance this innovative and worthy cause."
This year's tire recycling initiative included participation from a staggering 16 Maryland counties, more than doubling the number of participating counties from the previous year. This achievement represents a significant leap, resulting in the program being able to reach more farmers in more parts of the state.
The tire recycling initiative also provides benefits for the state in the form of scrap tire mulch playgrounds. It has also opened up exciting possibilities for the application of recycled products in many other areas of benefit. Further details on the extensive impact of this program can be found on the Maryland Department of the Environment's website. Together, we are forging a more sustainable future for both our farming communities and the environment.
###