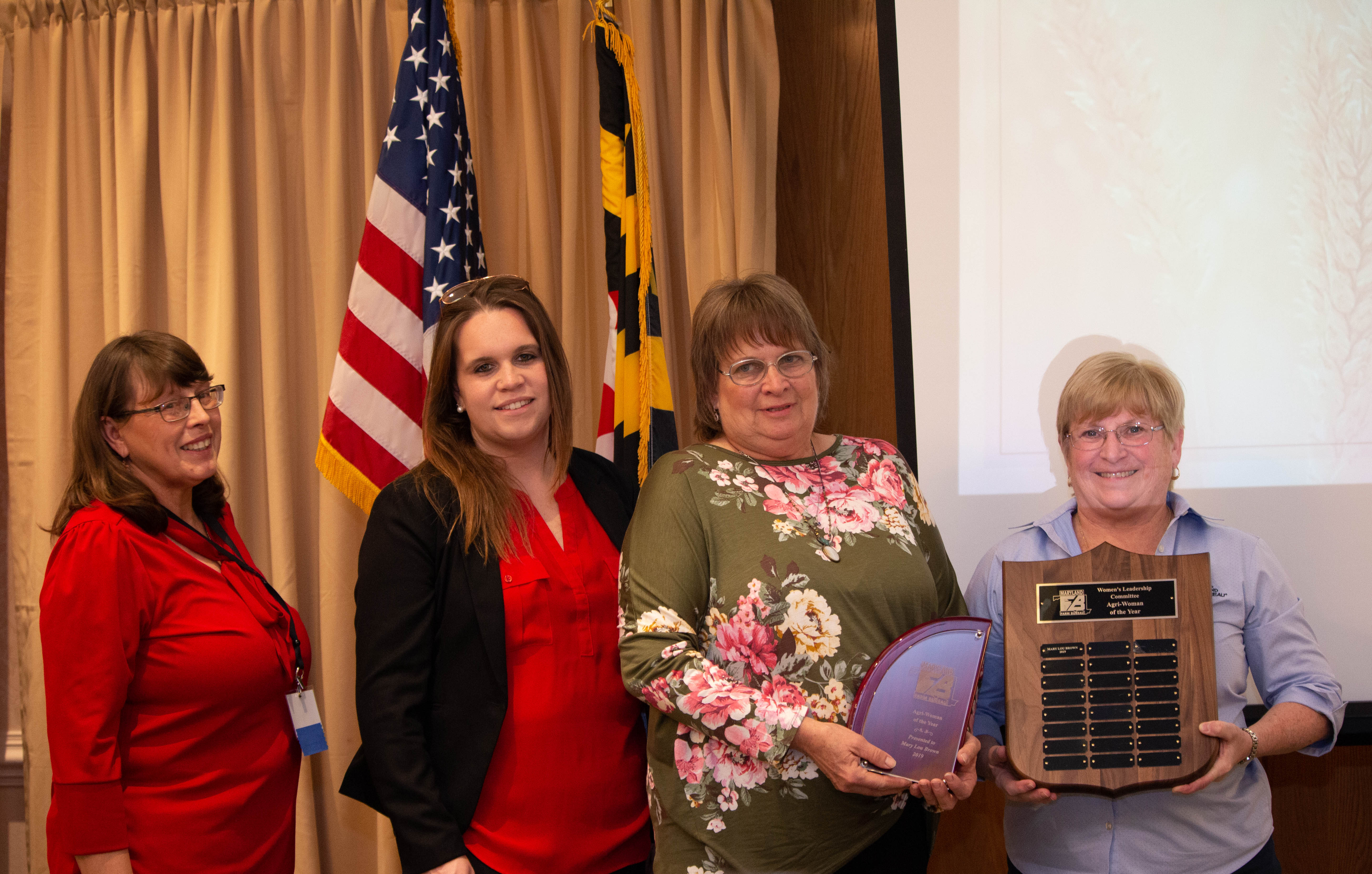 December 9, 2019 – Mary Lou Brown was recognized by the Maryland Farm Bureau Women's Leadership Committee as the first-ever recipient of the Agri-Woman of the Year award. Brown received a plaque in recognition of the honor, along with a credit to attend the American Farm Bureau's 2021 FUSION Conference.

"The Agri-Woman of the Year award recognizes outstanding women in agriculture for their dedication to the agricultural community and Farm Bureau," said Chris Catterton, chair of the MFB Women's Leadership Committee. "Mary Lou is a very deserving first recipient of this award."
Brown was born into agriculture, growing up on a dairy farm in Queen Anne's County. A former 4-H Program Assistant and vocational agriculture instructor, she spent many years engaging with youth about the importance of the industry.
Mary Lou and her husband, Bill, owned and operated a roadside produce stand before they started raising chickens for Perdue in 2001. Due to a tragic farming accident, Mary Lou lost her husband in 2016. She and her daughter have been managing the farm themselves ever since.
Brown keeps close ties with her community through active participation in several local groups. She and her daughter deliver food each week to about 30 families through a program linked to their church. She also served in several leadership roles as a 4-H club leader and member of the Hurlock Lions Club.
She is a board member of Maryland Farm Bureau, Dorchester County Farm Bureau, the Delmarva Poultry Industry, and Caroline-Dorchester County Fair. Brown graduated from the LEAD Maryland program in 2017.
"Mary Lou goes above and beyond with volunteering – both in the ag community and other organizations," said Catterton. "We appreciate her commitment to the community."
Sponsors of the Agri-Woman of the Year award include MidAtlantic Farm Credit, Frederick County Farm Bureau Women's Leadership Committee, Carroll County Farm Bureau, Chris Catterton, Wicomico County Farm Bureau, and Baltimore County Farm Bureau.